Welcome to my homepage.
I have relaunched my whole homepage. Please let me know if you like the new style and navigation. I'm happy about every feedback.
With my homepage I would like to show you a part of the world of Registration Plate Collecting. I also present you a small part of my worldwide collection. I started collecting registration plates of motor vehicles about ten years ago. Up to date my collection contains some 1,300 plates from all five continents.If you have any questions regarding this hobby or if you have any comments please sent me an e-mail .
Beside this, if you ever have an old plate available for a collector like me, please don't hesitate to offer it to me. There is no doubt that I will refund you at least your cost of shipping.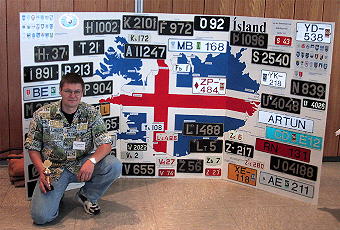 That's me with my award winning Iceland display
from this years national meeting in Bad Camberg (Germany)
(pictures from the meeting)
Around the world there are about 5,000 active collectors of registration plates known. Most of these collectors are organized in several clubs. In Germany there is AKS (Automobil-Kennzeichen-Sammler) with around 100 Members, in Europe Europlate has about 500 members from all over the world. In Europe there are also clubs known in The Netherlands and Belgium. Down Under number plate freaks are organized in NPCC (Number Plate Collectors Club). The biggest club is located in the USA. ALPCA (Automobil License Plate Collectors Association) is founded already in 1954 and is frequented from collectors from all continents.
---
On the following pages I'll give you a first view into my collection:
After a long time a new update this month. Plate of the month is a plate from an unknown spanish series. I'll try to keep on track to update the "Plate of the month" every month again. Also in this month an updated trade list.
But in the future you'll find the codelists of the western occupation zones as well as some plates from the governments of the federal states in the "Plate History of the Federal Republic of Germany". Furthermore I will include the codelist of the Federal Post, Federal Railway and Customs offices. So you see there is a lot coming up.
---
Sign my guestbook or take a look into it:
---
Suggestions / Tips / Comments / plate offers? Than e-mail me
You can also contact me by snail mail or fax:
Ralf Hegewald, Wacholderweg 6, D-28876 Oyten, Germany
Fax: xx49-4207-7379